Pentax 645z Real World Review by Nick Sparks
Pentax 645z vs Canon
5DSR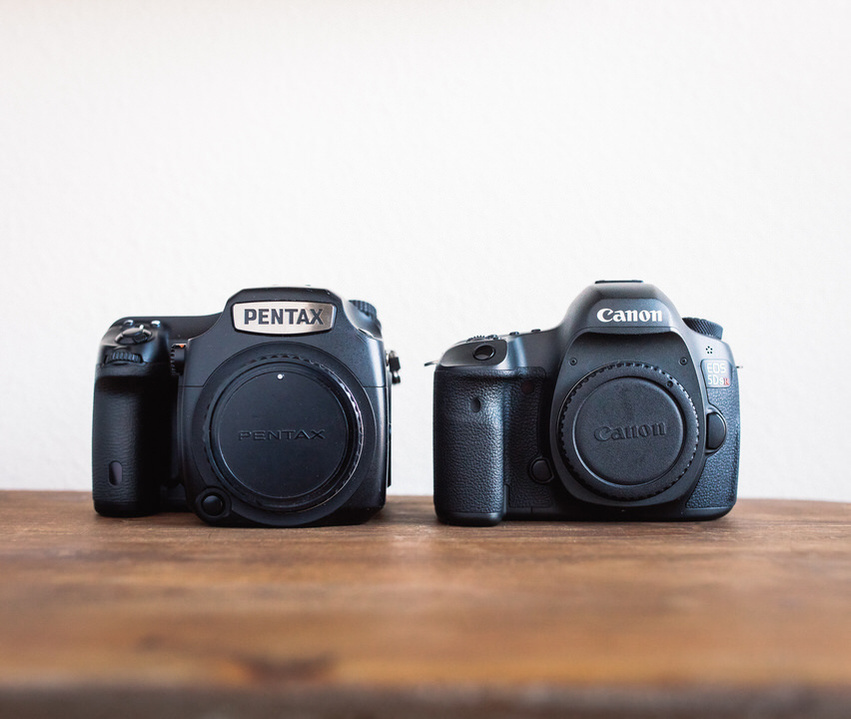 Let's jump right into it.
I've used both the Canon 5DSR + Zeiss Otus 55mm f/1.4 and the Pentax + D-FA 90mm f/2.8 Macro extensively. The Canon 5DSR is my best comparison point when analyzing the Pentax 645z, because both cameras share huge 50 megapixel outputs. Only the very best glass will out-resolve these kind of camera sensors.
Below is a comparison of the two lenses at 1:1 zoom:
1:1 rendering of both lenses to check sharpness. 5DSR + Zeiss Otus 55mm (left) Pentax 645z + Pentax 90mm Macro (right)
As you can see, the Canon + Zeiss Otus combo at f/1.4 out-resolves the 645z with Pentax's sharpest native lens at f/2.8. It's no surprise to me that the best full frame lens is able to out resolve the best Pentax medium format lens. The advantage to full frame camera systems (specifically Canon) is the wide range of high quality lenses.

If you want the sharpest image, opt for the 5DSR, but if you want the most flexible RAW files and a medium format look, opt for the Pentax 645z. Alternatively, there could be a "best of both worlds" scenario with newly designed mirrorless medium format cameras. The short flange distance will allow the adaption of high quality Zeiss Otus glass, since the image circle of the Zeiss Otus line is big enough to cover smaller medium format sensors.
Image Quality

Full Frame to Medium Format
The 645z sensor is 1.7 times bigger than full frame and has unique rendering characteristics. The out of focus transitions are a bit smoother than full frame, the highlight to shadow transitions roll off smoothly, and I love the 4:3 image ratio. 4:3 crops are more pleasing to my eye than 2:3.
(Pentax D-FA 645 55mm f/2.8, ISO 100, f/2.8, 1/400)
Let's get this out of the way–no, it is not as big as 645 film. The reality is that the market of sub $10,000 medium format camera bodies has not opened up to bigger sensors. Pentax has kept a mount that covers a full 645 image circle, which means that we may see a bigger sensor in a future camera body update.
The Files

It's great that this camera puts out DNG files. They save a little bit of space and work great in Adobe's ecosystem. I wish more camera manufacturers would allow the option of DNG output.
The file output is far from what that I'm used to seeing from my Canon cameras.
Honestly, I was a little bit put off when I first saw the Pentax 645z's ultra-flat RAW files. I'm not a fan of the color of the files straight out of camera. I prefer the skin tones and magenta tints of Canon RAW files, but my mind was changed after I worked with the files for a night. The flexibility of the files is something else.
(Pentax D-FA 645 Macro 90mm f/2.8, ISO 100, f/2.8, 1/1000. Edited file (left) RAW file (right). Exposed to the brightest part of the image.)
Luckily, there is far more information in the Pentax 645z files than Canon files, which means that it was an easy workflow adjustment to get the files to where I need. I made a custom color profile and other tweaks that I add on top of my normal starting point curve and color adjustments, which brings it to the color I like. If you are at the level to benefit from upgrading to a medium format camera, then you are not shooting JPEG anyway. These files give me the most post-flexability I've experienced and inspire me to push my photography further.
Dynamic Range

The dynamic range is astonishing. The 12-ish stops of the Canon 5DSR to the 14-ish stops of the Pentax 645z is a much bigger step up than it seems on paper. I've been blown away a few times when pulling out detail from part of an image that I thought was clipped at first glance. The highlights are even recoverable.
(Pentax D-FA 645 55mm f/2.8, ISO 200, f/2.8, 1/200)
The sky looked washed out in camera, but I was able to pull back lots of detail by burning and dodging select areas.
ISO Invariance
As far as I can tell, the camera is totally ISO invariant, which means you can underexpose to preserve the highlights, pull up shadow information in post, and the resulting output won't be any noisier than shooting the shadows at an ISO compensation equal to the postproduction exposure addition. There are plenty of pixels so I add noise reduction at the expense of resolution to compensate for the pushing of files. It cleans up nicely. With this capability, I meter to the highlights with this camera, which I would never do with my 5DSRs. It's a testament to Sony's Exmor sensors.
(Pentax D-FA 645 55mm f/2.8, ISO 200, f/2.8, 1/200)
The picture above was shot in bright morning light and shade. I had been second guessing whether I had pushed the 645z too far as I shot it, but I was impressed when I did my edit. In fact, I think I could have pushed it further in post if needed.
Edited file (left) RAW file (right)
ISO Performance

The Pentax team has unleashed magic on this Sony sensor. The grain is filmic and has a very random, soft feel. The color information has good retention, even when pushing ISO 6400 images.
(Pentax D-FA 645 Macro 90mm f/2.8, ISO 3200, f/2.8, 1/125. Shadows pushed about a stop in post.)
I'm happy with the ISO performance at 12800 too, but would not push the file very hard in post. The dynamic range takes a sharp dive at 12800 and above.
(Pentax D-FA 645 55mm f/2.8, ISO 6400, f/2.8, 1/200. Exposure pushed by about a stop and a half in select areas of the image.)
(Pentax D-FA 645 55mm f/2.8, ISO 12800, f/2.8, 1/160)
Cropping Power
I don't like throwing away resolution. In fact, I almost never cropped my 20-something megapixel 5Dmark ii and mark iii. That changed when I got my 50mp Canon 5DSR; cropping was then a possibility and the same goes for the Pentax 645z. Fifty-one megapixels gives me room to crop in, but it's still my preference not to push it very far, because I like to keep the medium format rendering characteristics at maximum.
Usability
Handling
I had previously used a Pentax 645 film camera, so this upgraded digital iteration felt familiar. It's heavy, but not overly so. The ergonomics stay true to the Pentax 645 line with its nice deep grip. There are many extra buttons compared to the old film cameras including physical dials for single/continuous autofocus and mirror lock up. The dials sometimes get moved while in my camera bag, so I wish they would implement a locking dial system. Overall, the transition was pretty seamless and only took a few sessions to adjust to the button layout completely.
Autofocus
The autofocus is carried over from Pentax's crop sensor line, so the points only cover about 20% of the viewfinder. Anything over one autofocus point was considered great for medium format three years ago, but the new lines of mirrorless medium format cameras have 100% autofocus coverage. I expect Pentax will find a way to stay somewhat competitive in this area with their next iteration, possibly bringing over the autofocus system from their full frame K-1 camera.
Selecting an autofocus point is a much harder endeavor than it should be. Pentax needs to implement a dedicated autofocus joystick. You have to press a small button and then move the focus point around with four inaccurate separate buttons. I have resorted to either relying on the center autofocus point or taking the camera away from my eye to select the autofocus point. Still, autofocus is good for a medium format DSLR and the autofocus is accurate if the subject has limited movement.
Moving subjects can be shot, but the hit rate is not very good if shooting wide open. This camera replaced my Zeiss Otus 55mm lens and Zeiss 135mm APO lens, so autofocus has been looked at as a luxury. I plan to use this mainly during slow moments on a wedding day.
Pentax D-FA 645 Macro 90mm f/2.8, ISO 1600, f/2.8, 1/125
Lenses: Vintage vs. Modern

Vintage Prime Lenses Still in Production
Some of the lenses in current production are thirty year old designs, and they were not the best lenses of their time. In fact, if you don't mind manual focus, I'd advise you to opt for Hasselblad V-mount lenses. They can be adapted to the 645z and are better at every comparable focal length. I just put in an order for a Hasselblad CF 180mm f/4, which is highly regarded as one of the best lenses for the V-mount. (Interested in a review of the V-mount lenses on the 645z? Send me an email: nick@nicksparksweddings.com or reach out on instagram: @nicksparksphotography)
The other downside to these is the sound of the screw mount autofocus. I had the 120mm macro for a while and I literally jumped back at first attempt to focus. It is as loud as some drills I have used. Obviously these retro screw mount lenses are unacceptable to use as a wedding photographer.
Pentax smc

FA

45mm f/

2.8

Lens

Pentax smc

FA

75mm f/

2.8

Lens

Pentax smc

FA

645 120mm f/4 Macro Lens

Pentax smc

FA

645 150mm f/

2.8

IF

Lens

Pentax smc

FA

645 200mm f/4

IF

Lens

Pentax smc

FA

645 300mm f/4

ED

(

IF

) Lens

Pentax smc

FA

645 400mm f/

5.6

ED

IF

Lens
Modern Prime Lenses
There are new designs that are optically upgraded from the FA series. These lenses are called D-FAor or DA. I am not going to touch on zoom lenses, because I don't own any or go out of my way to find information on them. Unlike the vintage glass, the D-FA lenses I've tried have been sharp at their widest apertures.
Pentax D-

FA

(and

DA

) 645 25mm f/4

AL

(

IF

)

SDM

AW

(Note: Pentax abruptly discontinued this lens in 2015 with no explanation)

Pentax

HD

PENTAX

D-

FA

645 35mm f/

3.5

AL

[

IF

] Lens (Note: This lens retains the loud autofocus of its predecessor, but it gained an upgrade to the aspherical element to improve over the

FA

version. In an odd move, Pentax also opted to not put aerobright coatings on this lens.)
Pentax D-

FA

645 55mm f/

2.8

AL

[

IF

]

SDM

AW



Pentax D-

FA

645 Macro 90mm f/

2.8

ED

AW

SR
The two lenses I own at the moment are the 55mm and the 90mm.
Lenses: Thoughts on the 55mm and 90mm
Pentax D-FA 645 55mm f/2.8 AL [IF] SDM AW
This lens is a great value and has great portability compared to the other lenses in the system. It has a better rendering and newer coatings then the vintage glass for the native mount. It's a joy to use with its field of view of 43mm on full frame. Essentially, it has the compression characteristics of a 55mm lens with the ability to shoot wider environmental portraits with an actual focal length in the middle of 50mm and 35mm on full frame.
(Images above taken with Pentax D-FA 645 55mm)
The center has great sharpness, but falls off near the edges. The distortion is also noticeable near the edges. Lightroom seems to be great at correcting most lenses, but this lens requires a bit of additional manual correction if a face is placed in a corner at close distance. I am able to fix some of the distortion with custom adjustments on top of lens profile corrections, but sharpness leaves something to be desired.
Pentax D-FA 645 Macro 90mm f/2.8 ED AW SR
As stated earlier, it is not quite on same level of Zeiss Otus lenses, which is probably a caveat of designing lenses that have an image circle designed to fit 645 film. This lens has the most modern looking rendering of any of the Pentax 645 lenses. Details are crisp and have a nice pop. The aerobright coating technology is Zeiss T coating caliber and renders heavily backlit scenes beautifully.
(Pentax D-FA 645 Macro 90mm f/2.8, ISO 100, f/2.8, 1/500)
This lens has a few tricks up its sleeve. It's image stabilization is much appreciated, because the 43.8 x 32.8mm sensor requires higher shutter speeds than I am accustomed to with full fame. The 2:1 macro capability is a nice feature too. It has a very shallow depth of field when used at minimum focus distance – like in the picture below:
(Pentax D-FA 645 Macro 90mm f/2.8, ISO 100, f/2.8, 1/100. Minimum focus.)
Lens Selection
I hope that Pentax continues to add to their 645 lens selection, but I am not exactly optimistic of the company's commitment to their 645 mount. They discontinued the 25mm lens a few years ago and even trying to find one on the used market is hard at this point. The only remaining lenses on the future lens roadmap are zoom lenses, which don't interest me. Fujifilm stepping into the medium format market and offering a 110mm f/2 lens by the end of 2017 has me envious. I love the smooth transitions of sensors this size and f/2 will look wonderful on the Pentax 645z or Fuji GFX.

More Sample Images
Final Thoughts on the Pentax 645z
This camera has unlocked things I could not do with my Canon cameras and added a unique look that I did not have previously. I love using it for slow paced photography. Don't get me wrong though. For the time being, my Canon DSLR's are not going anywhere. They are great for capturing high speed scenes on a wedding day that this camera would not allow. Full frame has its place and medium format has its place too.
With medium format prices coming down to Canon 1DX mark ii or Nikon D5 like levels, I see more photographers picking up multiple formats to have the best of both worlds. These cameras are only going to get better, have more lenses, and become more affordable.
Authored by Denver wedding photographer Nick Sparks | ig: https://www.instagram.com/nicksparksphotography/ | weddings: https://www.nicksparksweddings.com